---
---
Model D-2 Automatic Mixing Controller
The Model D-2 Automatic Mixing Controller helps professional audio mixers handle multiple live mikes. The eight-channel processor unit patches into the insert points of an audio mixing console. The Model D-2 knows who's talking and makes fast, transparent cross-fades, freeing the mixer to focus on balance and sound quality instead of being chained to the faders. Users find it invaluable in broadcasting, sound reinforcement, recording, and live performance. The D-2's voice-controlled cross-fades follow unpredictable dialogue seamlessly, eliminating cuing mistakes and late fade-ups without the choppy effects of gating. Built-in expandability allows linking units for up to 64 channels to handle the biggest jobs.

Dugan patented the first practical automatic microphone mixer in 1973. Since then automatic mixers have become a major product category. The Model D-2 incorporates three Dugan-patented technologies. First, the Dugan Speech System,™ which automatically manages any number of live mikes in unscripted talking situations. Second, the Dugan Music System™ offers automatic downward expansion to help reduce feedback and noise pick-up in live performances, such as opera or for rock concert back-up vocalists. Thresholds are adjusted automatically through continuous monitoring of ambient noise levels. The third system, the Dugan Gain Limiting System,™ provides a continuous, stepless, number-of-open-microphones master gain adjusting system to prevent feedback and ambient noise build-up when used with either the Music System or with manual or remote mike switching. The combination of these three Dugan technologies make the Model D-2 a unique tool for the industry. Professional connectors and marked default control settings allow it to be set up and running with any console in minutes.
The Model D-2's User-Oriented Features
The Model D-2 dramatically improves the performance of live mixing with multiple mikes:
Eliminates cueing errors
Reduces feedback and ambient noise pick-up
Insert loop patching allows full use of mixing console features
Separate control panel can be used horizontally on table top or vertically on meter bridge
Three control groups for constant ambience with L-C-R panned mikes
Two different automatic mixing algorithms for speech and music applications
Handles up to 64 live mikes when units are linked
Includes convenient remote control capabilities
Links with analog Model D and Model D-1 controllers
Multiple Applications
The Model D-2 supports a wide spectrum of live mixing applications, including:
Broadcast news, talk and game shows
Conference reinforcement and videotaping
Dialogue recording for film and television
Theaters, opera houses, and live performance stages
Boardrooms and teleconferencing
Distance learning
How it Works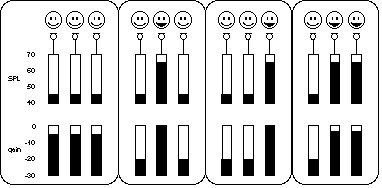 Dugan Speech System in action
The Dugan Speech System automatically manages any number of live mikes in an unpredictable dialogue situation. The above illustration shows the Speech System in action, offering four snapshots of a three mike system under different conditions of stimulation. For instance, in the first frame no one is speaking, so the inputs are riding at a medium gain, adding up to the gain of one mike. In the second frame, one person is speaking. You'll notice that the gain automatically turns up full, while the other inputs are turned down. In the third frame, another person speaks and the gain automatically shifts to that input, while the other inputs are turned down. And in the fourth frame, when two people speak simultaneously, the gain is automatically shared between them, while the third is turned down.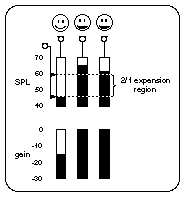 Dugan Music System in action
In the Dugan Music System, each channel has an expander gate with an automatically varying threshold. The gate thresholds follow the sound level picked up by an ambient sensing mike.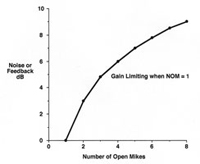 Dugan Gain Limiting System
The Dugan Gain Limiting System is used with the Music System to prevent feedback or noise build-up when several mikes are in use. It doesn't just count how many mikes are on, it continuously monitors the total gain of the system and reduces all inputs smoothly . You decide, by setting the gain limit, how many mikes can come on before gain reduction begins.
A Tool for Both Practical and Artistic Applications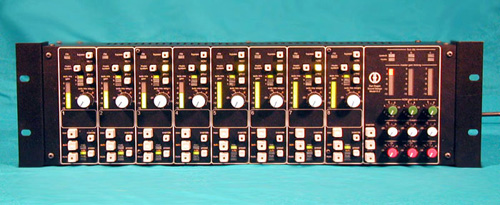 Control panel of the Model D-2
What distinguishes the Model D-2 from all other automatic microphone mixers is its ability to bring you the highest quality of sound in demanding and artistic applications. A quick glance at the Model D's front and back panels shows that the product is in a class of its own. Its rich array of controls provide you with the tools you need to fine-tune the system for the wide spectrum of audio conditions you encounter. For example, the "last hold" function provides continuous ambience when desired with the Music System. The "auto mix depth" control sets the amount of automatic attenuation. If you select the "override" button, it fades the system to the combination of inputs selected by the override preset switches on each channel. The Model D-2's "preset" button shifts the system smoothly to your default combination of on, automatic, and off modes for the channels as programmed on the preset switches. This combination also comes up when power is turned on. A momentary "mute" button also allows you to smoothly dump all channels without disturbing other settings.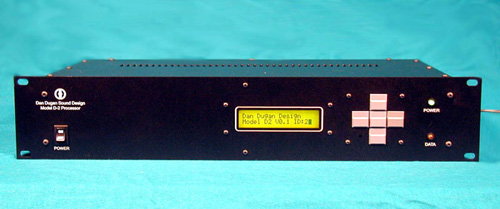 Model D-2 processor front panel
The processor's front panel includes the power switch, a data monitor light that indicates communication with the control panel, and a window with keyboard for setting overall system parameters.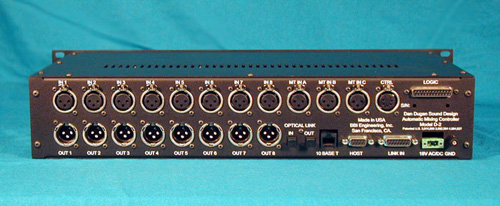 Model D-2 processor back panel
The Model D-2's eight analog inputs and outputs are located on the processor's back panel, along with music system threshold inputs for the three control groups. The LOGIC connector provides easy wiring of remote controls for remote channel muting and outputs for camera control. Multiple units can be daisy-chained using the ADAT OPTICAL LINK connectors. The analog LINK IN connector accommodates a Model D and/or Model D-1, or a linked string of Ds and/or D-1s. The HOST connector allows a PC to control all functions and receive all displays.
Quality You Can Count On
The Model D-2's circuitry is made in the U.S.A., and is modular for easy servicing. The unit is designed to meet applicable national safety standards. A hard-wire bypass relay in each channel patches all channels through when power is off. For more information about the Model D-2, or to place an order, contact Dan Dugan Sound Design at (415) 821-9776 voice; (415) 826-7699 fax.
Specifications
Control Panel
Connectors: Two 5-pin XLR for combined control and power cable. Cable may be connected to either the left side of the control panel or the back.
Dimensions: 3RU, 17" x 5" x 2-1/2" depth behind panel (43 cm x 13 cm x 6.4 cm) without rack ears, 19" wide (48 cm) with rack ears installed.
Weight: 7.2 pounds (3.25 Kg); in shipping box with control cable, 9.1 pounds (4.1 Kg)
Processor
Audio Inputs: active balanced, 10K ohm, -10 to +4 dBu nominal level, +21 dBu maximum
Audio Outputs: source impedance balanced, 100 ohm source, pin 2 driven; will drive a 600 ohm load
Gain: unity
A/D-D/A: 48 KHz, 24-bit
Audio Latency: 1.2 ms
Frequency Response: 10 Hz to 22 KHz, +0/-1 dB
Maximum Output: +21 dBu
Output Noise: less than -89 dBu (A-wtd); 110 dBA dynamic range
Crosstalk: -81 dB at 20 KHz
Distortion: less than .003% THD+N at +21 dBu
Linking:optical, daisy-chain up to 8 units (64 channels); legacy link input connector for Model D and/or D-1
Connectors: Audio, standard XL-type, inputs female, outputs male, pin 2 hot; Control Panel, 5-pin XLR; 10 BASE T, RJ-45; Host RS-232, DB-9; Linking, ADAT optical; Legacy link input, DB-15; Remote (Logic I/O), DB-25; Power, plug-in screw compression terminal strip.
Logic Inputs: 8 channel mutes, System Override, System Mute (all momentary, while held). TTL, active low (contact to ground).
Logic Outputs: 8 channel active flags. Active low, maximum applied voltage 30V, maximum current sinking 300 mA momentary, 100 mA sustained, inductive load permitted. Internal 51K pull-up to 5V.
Power: 12 VDC 2A; separate power supply unit; input 90 to 264VAC, 47 to 63Hz, 45 VA; Approved UL, CSA, TUV
Dimensions: 2RU, 19" x 3-1/2" x 10" depth behind panel (43 cm x 9 cm x 25 cm)
Weight: 11.5 pounds (5.2 Kg); in shipping box with power supply, 14.5 pounds (6.5 Kg)

Shipping weight of complete system: 23.6 pounds (10.6 Kg)
---